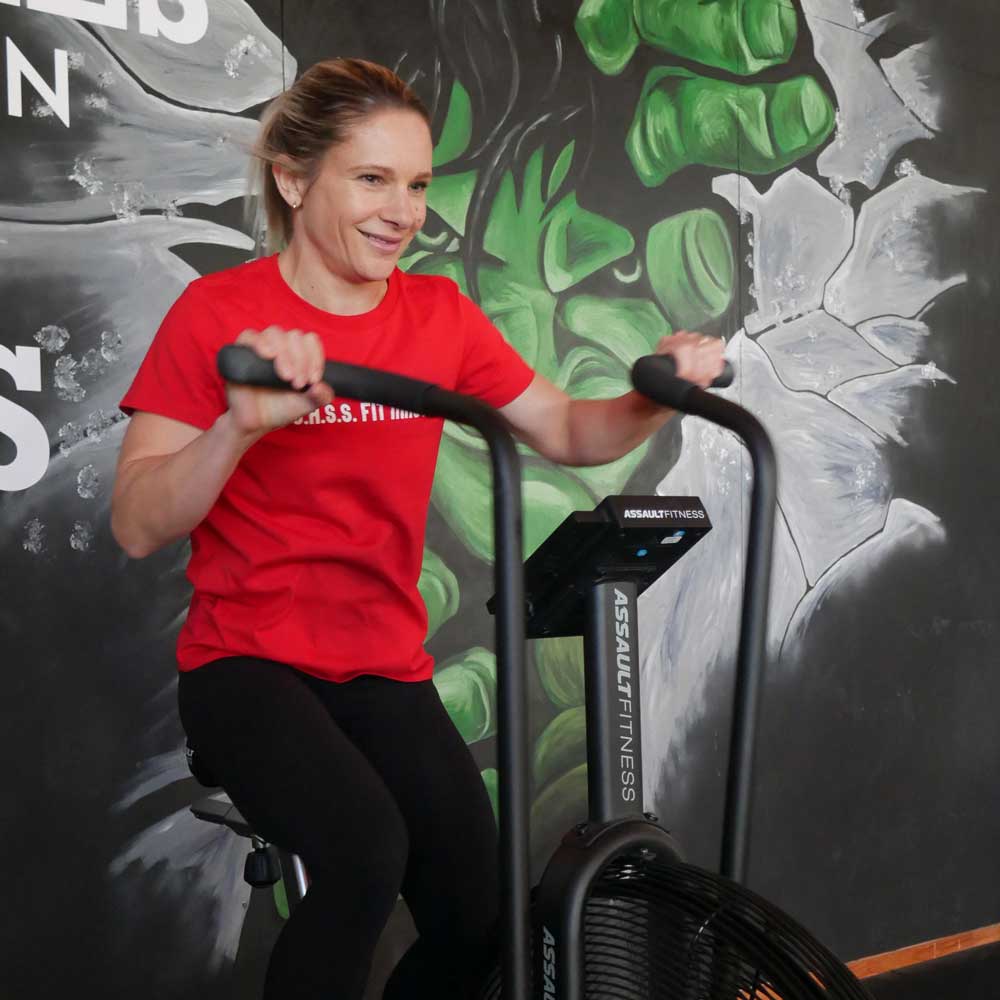 Sara Surtees
COACH
I have always enjoyed pushing my limits to see what I'm physically capable of. As a kid I tried many various sports, my favourite would be several years of competitive gymnastics. As an adult I have been a long distance trail runner, my biggest event was the Tarawera Ultra 50km run. I then moved in to functional fitness, competing at a number events and finally powerlifting which is currently my main focus. My husband and I are blessed to have 3 teenage kids whom we are so proud of, they are remarkable young people.
What is your favourite and least favourite functional training movement?
Squat clean is my favourite, although not my strongest lift they're heaps of fun! Air Bike is my least favourite.
What would your super powers be?
Relentlessness – I never give up pursuing something that is important to me – or…Invincibility- to never be injured again
Top 3 training tips?
Keep it tight! Embrace your core –
Eat to fuel your body and maximise your training – 

Rest and recovery. Don't under-estimate the value of rest. This will help you keep seeing progress in your training

No lift in a training environment is worth compromising form
Greatest achievement so far?
I've competed at both national and international levels but my biggest achievement so far would have to be overcoming a debilitating injury and making it back to the competition floor. Such an undulating couple of years which required unfailing tenacity to rehab the body and build mental toughness like never before. I have been left with a passion to help others who find themselves in similar situations.
What goals have you set for yourself?
I just keep taking it one day at a time, with the aim to be the best version of me I can, to love life every day and live it to its fullest as I have first hand learnt you never really know what the next day may bring. But…I would quite like to hit the international powerlifting platform
Favourite food?
Coffee!!…then eggs Benedict
Favourite tunes to workout to?
Oh I often get given grief for my workout music choices.  Something casual and relaxing like 'two punks in love'.
Who do you idolise and why?
I can't say I have one. I have huge admiration for anyone who has put in the dedication it takes to overcome any obstacles that come their way, to pursue relentlessly and achieve what they have set their hearts and mind to.
Why Join the sassfit coaching team?
I love the health and fitness industry with a passion and have been working towards giving back via coaching for a while now so when approached by Rima it just seemed like a great opportunity.